The NFL has seen its fair share of incredible athletes and captivating stories, but none more so than the Kelce brothers'. Jason and Travis Kelce have not only etched their names in football history, but they have also grabbed fans with their unmistakable talent and enthralling journey.
Key Points
A Historic Encounter at the Super Bowl
Their meteoric rise to stardom culminated in the February 2023 Super Bowl, when the brothers wrote an unprecedented chapter in NFL history. The contest between Jason's Philadelphia Eagles and Travis' Kansas City Chiefs was the league's first-ever sibling rivalry in the championship game. The Chiefs triumphed, with Travis becoming the first person to defeat his sibling on the grand stage of Super Bowl Sunday.
Facts About Kelce
Age: 36
The year he was drafted to the NFL: 2011
NFL team he currently plays for: Philadelphia Eagles
Football position he plays: Center
Relationship Status: Married to Kylie McDevitt
Children: Father to three daughters (Wyatt, 4, Elliotte, 2, and Bennett, 8 months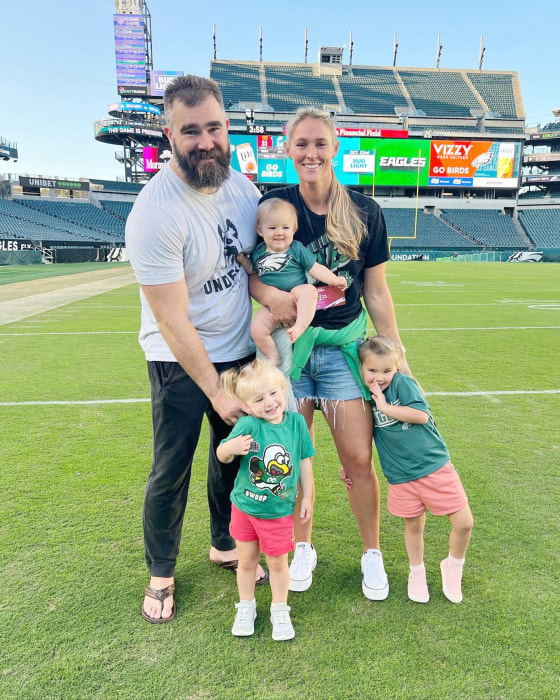 Rising Stars Beyond the Field
The Kelce brothers continued to rise after the Super Bowl. Travis Kelce's friendship with music sensation Taylor Swift, as well as Jason Kelce's family documentary, catapulted them into the spotlight. The couple recorded a Christmas song, appeared on "Saturday Night Live," and hosted the popular "New Heights" podcast series, revealing personal stories and insights into their lives.
The Journey from Cleveland Heights to NFL Stardom
The Kelce brothers' adventure began in Cleveland Heights, Ohio, where they refined their skills and laid the framework for eventual NFL greatness. Jason, a center for the Philadelphia Eagles, won the Super Bowl in 2017, while Travis, a tight end for the Kansas City Chiefs, won in 2019 and 2023.
Understanding the Kelce Legacy
However, their story is more than just on-field triumphs. Raised by divorced parents, Donna and Ed Kelce, the brothers' upbringing reflects a tale of unwavering familial support and resilience. Their parents' commitment to staying together, primarily for their sons' benefit, has been pivotal in shaping the Kelce brothers' journey to success.
A Shared Journey at the University of Cincinnati
The Kelce brothers were teammates at the University of Cincinnati prior to donning NFL jerseys. They formed an unbreakable relationship here, even sharing a dorm room at one point. Despite some unusual situations, their collegiate companionship highlighted their unwavering relationship.
Uniting on the Podcast Stage
"New Heights with Jason and Travis Kelce" delves into their personal lives, passions, and football stories. This podcast allows them to not only discuss football but also reflect on their personal journeys, giving fans an intimate encounter with these NFL legends.
Brotherly Bonds and Support
The Kelce brothers stand together, supporting each other's paths, through triumphs and tribulations. Travis' acknowledgment of his brother's influence, as well as Jason's delight in Travis' successes, shows a friendship established through perseverance and mutual respect.
Beyond the Field, a Story of Resilience and Joy
Jason Kelce's description of Travis as someone who embraces life with exuberance and Travis' tribute to his brother's influence underscores the depth of their relationship. Amidst fame and the spotlight, they navigate their individual paths with admiration and understanding for each other's journeys.
The Kelce brothers' story goes beyond the gridiron; it's a testament to resilience, familial support, and the unbreakable bond of brotherhood.
Latest News